Rittmeister Witold Pilecki, a Polish Army officer and intelligence agent during WWII, the author of "Witold's Report", the first comprehensive Allied intelligence report on Auschwitz concentration camp and the Holocaust.
General Emil Fieldorf "Nil", Deputy Commander-in-Chief of the Armia Krajowa ("Home Army").
Bolesław Kontrym, a Polish Army officer, a Home Army soldier, participant in the Warsaw Uprising and organizer of underground secret-police force "Cichociemni".
Łukasz Ciepliński. a Polish soldier who fought in the Polish anti-Nazi and anti-communist resistance movements, executed with a shot to the back of the head by the Polish secret police, Urząd Bezpieczeństwa, for almost fifty years, his name was expunged from all books by the Communist government of the PRL.
Kazimierz Moczarski, primarily known for his book "Conversations with an Executioner", a series of interviews with a fellow inmate of the notorious UB secret police prison under Stalinism, the Nazi war criminal Jürgen Stroop.
Erich Koch, a Gauleiter of the Nazi Party (NSDAP), Chief of Civil Administration of Bezirk Białystok.
Josef Albert Meisinger, known as the "Butcher of Warsaw", a SS functionary in Nazi Germany.
What did all those men, heroes and war criminals have in common? All of them were jailed in the worst prison in Poland. Located at 37, Rakowiecka Street in Warsaw borough of Mokotów under the communist rule, it was a place of detention, torture and execution of the Polish political opposition and underground fighters. In 1998 a memorial plaque was erected on the prison wall to commemorate the 283 known political prisoners executed in Rakowiecka Street between 1945 and 1955, as well as hundreds of others whose names and place of burial remain unknown. Still being a prison but hopefully without any prisoner the Mokotów penitentiary is being transformed into Museum. I was lucky to visit this place before it would be fully opened for visitors. I have been there with my British friend who graduated history. That visit was meant to be a birthday gift for him. You may ask what kind of present can be entering prison premises but to someone who is historian it was better than any material goods, more valuable than even the most expensive thing. And to me seeing the interior of "Rakowiecka" as we called that place was like stepping into my childhood. My grammar school was situated in the neighbourhood and I passed by the wall many times as a little girl. I remember a black joke which was very popular at the time. It said: "What was the longest street in Warsaw? Rakowiecka Street since it was leading from the prison to Moscow (the name of the cinema located at the end of that street and the capital of the Soviet Union which to many Poles was the same as Siberia, a place of exile)". I am extremely thankful to the whole staff of the rising Museum because we couldn`t have seen that place without their consent and kind help.
***
"If you took off vinyl part of railings and the guard booth this corridor would look like it was on the very beginning" – said our guide.
It was corridor of darkness and dead silence. There were doors on both sides and interrogation rooms on top floor. The first door in a row was leading to the cell of rittmeister Witold Pilecki.
"I've been trying to live my life so that in the hour of my death I would rather feel joy, than fear." (source: Bartłomiej Kuraś, Witold Pilecki – w Auschwitzu z własnej woli, "Ale Historia", "Gazeta Wyborcza", April 22nd, 2013)
Recently the surname of Witold Pilecki has become very well-known thanks to a few movies depicting his story, from his youth through action during WWII, up to the imprisonment and death in May 1948. Pilecki is a hero, but Communist authorities attempted to erase him from history.
The author of "Witold's Report", the first comprehensive Allied intelligence report on Auschwitz concentration camp and the Holocaust.
On September 1st, 1939, the Third Reich started WWII by invading Poland. The Polish Army lost the battle in a mere matter of weeks. Pilecki, with two other soldiers, founded the Secret Polish Army, one of the first underground organisations in Poland.
He volunteered for a Polish resistance operation to get imprisoned in the Auschwitz death camp in order to gather intelligence and escape. Knowing that he would be sent there if caught, he set up a plan to enter the camp and gather intelligence for the purpose of organising a resistance. So, a few days later, Pilecki deliberately made it possible to be caught along with 2,000 others. After being beaten and tortured, he was sent to the Auschwitz Konzentrationslager in Oświęcim. While in the camp, despite battling illness and torture Pilecki organized a resistance movement and as early as 1941, informed the Western Allies of Nazi Germany's Auschwitz atrocities. The group helped maintain high morale among inmates, keeping them informed about outside world, gathering and sharing food in secret. The group, named ZOW (Związek Organizacji Wojskowej – Military Organization Union) provided Polish underground with information about the camp. From 1942, he was able to broadcast reports by using radio transmitter that took seven months to create using smuggled parts. The "Witold's Report" became the first ever comprehensive account of the Holocaust from a firsthand witness and it was a very useful source of information on Auschwitz.
When Gestapo found out and began killing members of ZOW, Witold Pilecki made the plan to break out of the camp and convince the Home Army leaders to attempt a rescue mission. On the night of April 26th/27th, 1943, he succeeded in escaping with two other inmates. Witold Pilecki escaped from the camp after nearly two and a half years of imprisonment.
A clandestine organization within the Home Army
Several days later, Witold Pilecki contacted the Home Army and it became clear that they would need help to infiltrate and rescue the inmates. They realised that it did not have enough force to storm the camp by itself. In 1944, the Russian army, despite being within attacking distance of the camp, showed no interest in a joint effort with the Home Army and the ZOW to free it. Until he became involved in the Warsaw Uprising, Pilecki remained in charge of coordinated ZOW and AK activities and provided limited support he was able to offer to ZOW.
In February 1944, Pilecki joined a secret organisation, NIE formed as a clandestine organization within the Home Army with the goal of preparing resistance against a possible Soviet occupation. They were actually right to do so because, as it turned out, in 1945, Poland would fall under the Soviets rule.
***
During the first hours of the Warsaw Uprising of 1944, the prison was attacked from the outside by the WSOP (Warszawska Służba Ochrony Powstania – Warsaw Uprising Guard Service) platoon of the "Granat" group of the Home Army. The partisans successfully broke into the prison and liberated approximately 300 inmates. However, they did not manage to capture the entire prison and were soon counter-attacked by the SS forces stationed nearby and forced to retreat. As a reprisal, the SS and Wehrmacht murdered approximately 500 inmates. Until the end of the uprising both the prison and the area of Rakowiecka street were held by the Germans, despite numerous attacks by the Home Army. After the Uprising the German District was spared the fate of the rest of Warsaw and survived the war in a relatively good condition.
Fought in the northern city centre as a simple private
In August 1944, Pilecki took part in the Warsaw Uprising even though soldiers of the NIE were forbidden to risk their lives. He volunteered for service with Kedyw's Chrobry II group and fought in "Mazur" platoon, 1st company "Warszawianka" of the National Armed Forces. At first, he fought in the northern city centre as a simple private, without revealing his actual rank. Later, as many officers fell, he disclosed his true identity and accepted command. His forces held a fortified area called the "Great Bastion of Warsaw". It was one of the most outlying partisan redoubts and caused considerable difficulties for German supply lines. The bastion held for two weeks in the face of constant attacks by German infantry and armor. On the capitulation of the uprising, Pilecki hid some weapons in a private apartment and went into captivity. He was imprisoned at Stalag VIII-B, a German prisoner-of-war camp near Lambinowice, Silesia. Later Pilecki was held in Oflag VII A in Murnau, Bavaria where he was liberated by troops of the US 12th Armored Division on April 28th, 1945.
The Germans came out victorious and even with more than 200,000 deaths, Pilecki survived as the Nazis did not know who he was.
***
The buildings didn`t suffer devastation during the war except to the hospital which was burnt down and as soon as Soviet troops entered Warsaw the prison was taken by NKVD – said our guide – In March 1945 it was given to Ministry of Public Security and the most horrible period began.
We were entering the cells which looked like prisoners had just left them. The last ones left the Mokotów Prison in February 2017.
His cover was blown and ordered to leave but he declined
Despite German surrendering in 1945, Witold Pilecki was not done fighting for a Free Homeland. Soon after his liberation he joined the 2nd Polish Corps. and stationed both in Great Britain and Italy, where he wrote a monograph on Auschwitz. He remained loyal to the London-based Polish government-in-exile after the Soviet-backed communist takeover of Poland. As relations between wartime government-in-exile and the Soviet-backed Polish Committee of National Liberation worsened, in September 1945, Pilecki accepted orders from General Władysław Anders, commander of the 2nd Polish Corps to return to Poland under a false identity and gather intelligence to be sent to the government-in-exile.
Pilecki returned to the country in October 1945, where he proceeded to organize his intelligence network. It soon became clear that Poland would not be free. In early 1946, the Polish government-in-exile ordered the remaining active members of the Polish resistance (who became known as the damned soldiers) to either return to their normal civilian lives or escape to the West. In July, Pilecki was informed that his cover was blown and ordered to leave. But he declined. In April 1947, he began collecting evidence of Soviet atrocities in Poland as well as the arrest and prosecution of former members of the Home Army and Polish Armed Forces in the West, which often resulted in execution or imprisonment.
***
We entered another cell. The prison was 113 years old. And there was that smell in the air. The smell of history. These walls witnessed the different stories of guilty and absolutely innocent people.
The guide drew our attention to the cell loo which was used as a WC, toilet, water tap and telephone. After emptying lavatory the inmates were able to talk to fellow prisoners being next cell.
"I cannot live. They killed me. Because compared to them Auschwitz was just a trifle." (Pilecki's last conversation with his wife)
On May 8th, 1947 Witold Pilecki was arrested by the Ministry of Public Security but he did not reveal the name of those in his group. He swore to protect them all. Prior to trial, he was repeatedly tortured. He told his wife, "I cannot live. They killed me. Because compared to them Oświęcim (Auschwitz) was just a trifle."
On March 3rd, 1948, a show trial took place. Testimony against Pilecki was presented by a future Polish prime minister, Józef Cyrankiewicz, himself an Auschwitz survivor. Pilecki was accused of illegal border crossing, use of forged documents, not enlisting with the military, carrying illegal arms, espionage for General Władysław Anders, espionage for "foreign imperialism" (thought to be British intelligence) and planning to assassinate several officials of the Ministry of Public Security of Poland. Pilecki denied the assassination charges, as well as espionage, although he admitted to passing information to the 2nd Polish Corps, of which he considered himself an officer and thus claimed that he was not breaking any law. He pleaded guilty to the other charges. On May 15th, with three of his comrades, he was sentenced to death. Ten days later, on May 25th, 1948, Pilecki was executed at the Mokotów Prison, by Staff Sergeant Piotr Śmietański, nicknamed "The Butcher of Mokotów Prison" by the inmates.
His final words before his execution were "Long live free Poland"
No one knows where Witold Pilecki was buried since place of burial has never been found however it is thought to be somewhere within Warsaw's Powązki Cemetery. For decades, his story was unknown mainly due to the Soviet censorship at the time. They were not allowed to speak about his anti-Nazi actions.
After communism in Poland eventually fell a symbolic gravestone was erected in his memory at Ostrowa Mazowiecka Cemetery. In 2012, Powązki Cemetery was partially excavated in an effort to find Pilecki's remain.
"Inmate 4859"
In 1990, Witold Pilecki and all others sentenced in the show trial were finally absolved of all charges. In 1995, he was posthumously awarded the Order of Polonia Restituta and in 2006 he received the Order of the White Eagle, the highest Polish decoration. On September 6th, 2013, he was posthumously promoted by the Minister of National Defence to the rank of Colonel.
Films about Pilecki include a 2006 made-for-TV movie, "Śmierć rotmistrza Pileckiego" (The Death of Captain Pilecki), starring Polish actor Marek Probosz; the 2015 film "Pilecki" starring Mateusz Bieryt; and the documentaries "Against the Odds: Resistance in Nazi Concentration Camps" (2004); and "Heroes of War: Poland" (2014) produced by Sky Vision for the History Channel UK. A number of books have been written about Pilecki. In addition, his comprehensive 1945 report on his undercover mission at Auschwitz was published in English for the first time in 2012, under the title "The Auschwitz Volunteer: Beyond Bravery", and was hailed by The New York Times as "a historical document of the greatest importance".
Swedish heavy metal band Sabaton wrote and performed a song about him known as "Inmate 4859".
***
There is The Palace of Wonders – said our guide – Do you know what is origin of that name? The prisoners called that "wonders" because that building was the place where prisoners were interrogated for several hours being beaten and tortured, both physically and mentally. After several months or years of mistreatment the detainees were usually either executed in the old boiler room and their bodies disposed of in the dump in Służewiec, or transferred to other prison sites in Poland, including the infamous Montelupich Prison in Kraków, Lublin Castle, and in towns of Wronki, Rawicz, Strzelce Opolskie, Sztum, Fordon and Inowrocław.
"Murdered by one [nation] and abandoned by the others."
On March 1st, 1951, the Soviet-controlled communist Polish secret police, Urząd Bezpieczeństwa (UB), carried out an execution of seven members of the 4th Headquarters of anti-Communist organization "Wolność i Niezawisłość" (WiN) in the Mokotów Prison in Warsaw. During WWII they took active part in anti-Nazi resistance. The executed men were: Łukasz Ciepliński, Karol Chmiel, Adam Lazarowicz, Józef Rzepka, Józef Batory, Mieczysław Kawalec and Franciszek Błażej. All men were apprehended in late 1947 and early 1948, and most of them came from the Rzeszów area. They were chosen to take part in anti-communist resistance by Ciepliński, commanding officer of the WiN's 4th Headquarters, who chose them because of their moral fortitude and their unbroken spirits.
The interrogations conducted by Communist investigators that ensued were particularly brutal. All seven were tortured and severely beaten. Cieplinski's legs and hands were broken, and he had to be carried for meals in a blanket. A staged trial that took place on October 5th, 1950, was led by a group of ruthless military prosecutors from the Warsaw Military District – Colonel Aleksander Warecki (real name Warenhaupt, who served as the presiding judge), Major Zbigniew Furtak, Major Zbigniew Trylinski and Lt. Col. Jerzy Tramer, who served as the Public Prosecutor.
The accused were not given an opportunity to refute charges brought against them, despite the fact that on several occasions Ciepliński had stated that he was tortured and that his confessions were extracted with the use of torture. The Communist judges disregarded his testimony. The courtroom was filled with UB functionaries. With approval of the presiding chief judge Warecki, the prosecutors publicly mocked the accused. The newspaper articles which covered the case ran stories that the accused men were "Traitors, spies and American servants [who] will be prosecuted".
The accused accepted their sentences with calmness, as they had anticipated the outcome of the trial to result in their deaths. With the court ruling of five consecutive death sentences, the first of the seven men to be executed was Łukasz Ciepliński. Colonel Warecki stated afterwards that all seven were collaborating with Nazi occupiers and had betrayed Poland. After the trial, the men were moved to the Mokotów Prison, where they spent the next 137 days awaiting their execution.
Appeals for clemency sent to then Communist Poland's president Bolesław Bierut remained unanswered, and the condemned men prepared themselves for death. Realizing that his tormentors would dispose of his body, Ciepliński decided to swallow a small portrait of the Virgin Mary, which he had worn on his neck. During this time, the condemned men shared the same large cell with other 80 anti-Communist fighters, among them Zygmunt Szendzielarz. According to the surviving witnesses, the WiN members supported and helped each other, tending particularly to Ciepliński and Błażej, both of whom suffered the most during brutal interrogations.
In the letter to his wife Jadwiga smuggled out of the prison shortly before his death, Ciepliński wrote:
"My time is near. When they will be leading me out of my cell to die, my last words to my friends will be: I am happy that I will be murdered as a Catholic for my faith, as a Pole for my country, and as a human being [I will die] for justice and truth […] My last farewell will be only to you. I believe that the Holy Mother will take my soul […] and I will continue to serve Her and report to her about the tragedy of the Polish Nation – murdered by one [nation] and abandoned by the others."
***
"Prisoners condemned to death are kept in cells with other prisoners. Executions are effected in the evenings or early in the mornings hours. Those tried by military courts are shot, while those sentenced to death by civilian courts are hanged"
source: Central Intelligence Agency Information Report, June 21st, 1955/ http://reporters.pl/wp-content/uploads/2017/01/wiezienie_Mokotow_CIA.pdf
Executed with a single shot to the back of the head
Shortly before the execution, which took place in the old boiler-room of the prison, Karol Chmiel tried to escape by running along the courtyard and screaming "They are murdering us." He was captured on a pile of coal. Even though he had been promised that his letters would be mailed to his sons. The promise was never kept.
All seven men were shot on March 1st, 1951, at five- to ten-minute intervals. They were executed with a single shot to the back of the head, the standard Communist execution method and consistent with the executions at Katyn Forest. The executions began at approximately 8 pm, with Ciepliński being shot first, followed by Batory at 8:05, Chmiel at 8:15, Kawalec at 8:20, Łazarowicz at 8:25, Błażej at 8:35, and Rzepka at 8:45. Two of the executed men, who were Ciepliński and Rzepka, had been previously awarded Poland's highest military decoration for valor, the Cross of the Virtuti Militari. The firing squad consisted of a single man, mentioned before the notorious Piotr Śmietański, nicknamed by the prisoners the "Butcher of the Mokotów Prison."
The burial place of the seven WiN soldiers executed by the Communist regime remains also unknown to this day. The 1950 court ruling rendered by the Communist court was overturned in 1992 by the Warsaw Military Court and the seven convicted and executed men were acquitted on all counts. In the 1992 court ruling it is stated that the executed WiN soldiers "Fought and Died for Free, and Sovereign Poland."
***
Although "Rakowiecka" is primarily known as political prison it was built in early 20th century as a tsarist prison used by the local criminal police of Warsaw. After Poland regained her independence in 1918, the site was refurbished and until World War II, served as the main prison facility of the Polish attorney general's office.
The Museum is scheduled to open in 2019. It`s going to be very modern area. As modern as it was on the very beginning. In early 1900s.
By Agata Szostkowska
Photos: Michał Stanisławski
© Copyright www.communications-unlimited.nl, 2017. All rights reserved.
Source: Central and Eastern Europe Center: Communications-Unlimited.nl © Copyright www.communications-unlimited.nl, 2017. All rights reserved.
The old boiler-room of the prison, the place of execution
The Palace of "Wonders"
The interrogation rooms on top floor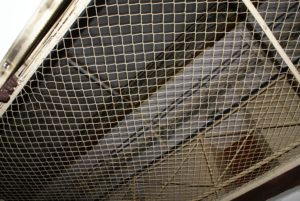 One of the cells
A loo which was used as a WC, toilet, water tap and telephone.
The Damned Soldiers Memorial in Powązki Cemetery